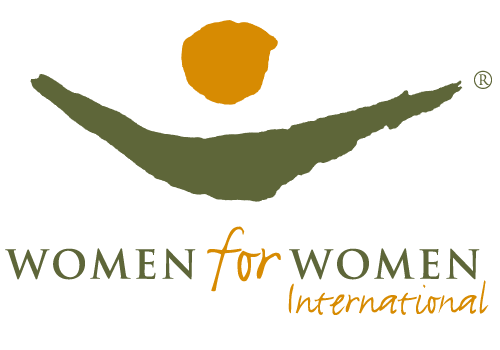 We are very proud to help other women around the world improve their lives in numerous ways. So all book sales from "Modern Heroine Soul Stories" is being donated to Women for Women International.

Women for Women International is an NGO (non-governmental organization) that helps women in war-torn countries rebuild their lives in practical, sustainable ways.
For over 20 years, they have impacted and improved the lives of 420,000 women – and counting!!
What Women for Women International Does
More than 20 years ago, our founders were inspired to help women facing violence, marginalization, and poverty as a result of war and conflict. We opened our doors in 1993 in Bosnia and Herzegovina, and today, we also work directly with women in Afghanistan, the Democratic Republic of Congo, Iraq, Kosovo, Nigeria, Rwanda, and South Sudan.
Through our program, the most marginalized women find inspiration and strength to transform their lives.
Over the course of a year, women come together in classes of 25 to learn critical skills and access new resources. With a curriculum that meets them where they are, women begin their journey to achieve these four outcomes:
Earn and save money – Women learn basic business skills and a vocational skill with earning power in their local markets. They begin to save and receive support to establish cooperatives after graduation.
Develop health and well-being – Women learn how to manage their health, including reproductive health and stress management. They also learn about the importance of good hygiene and nutrition for their families. They are connected with local healthcare providers.
Influence decisions in their homes and communities – Women learn their fundamental rights and those recognized in their countries, and are encouraged to educate other women. They learn the importance of civic participation, voting, and negotiation.
Connect to networks for support and advocacy – Women build support networks. They share ideas and resources, invest in business together, and help each other find solutions to common challenges.
Sustainable Change
Beyond the classroom, women become catalysts for progress and change, creating ripple effects in their families and their communities. For instance, women increase their average daily income from $0.41 when they enroll in our yearlong program to $1.98 two years after completing our program. The overwhelming majority invest their savings in growing their small business and in their children.
Discover more about their latest developments and how you can Sponsor a Sister by clicking here.