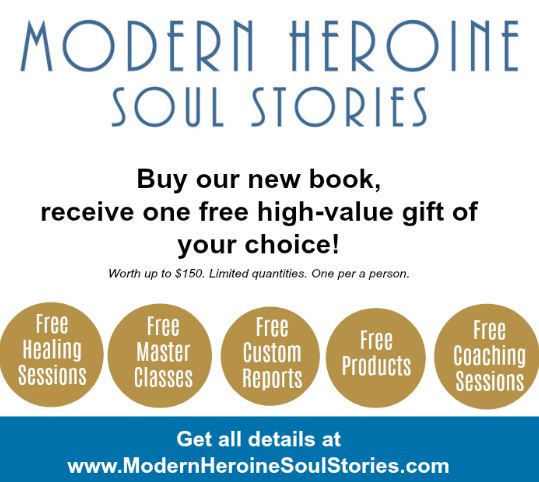 It was important to us that this book not only connect with readers, but to also make a positive impact in other ways, too. That's why we're donating 100% of book royalties to a non-profit organization called Women for Women International so our 24 stories can be of benefit in practical, uplifting ways to more people around the world.
And here's an even more exciting bit of news: if you buy the book now, you can get one free gift of your choice – and these are NICE gifts! One-on-One healing and coaching sessions, custom reports, free products, free downloads, and more - worth up to $150.
We have 12 to choose from (while they last):
• Numerology Premium Forecast
• Astrology T-shirt
• Audible audio book download
• Online Course: Mastering Abundance In Your Spiritual Business
• Introduction to Ho'Oponopono Class
• 30-minute Ho'Oponopono Clearing Session
• Post-Cancer Remission Health Coaching
• Book Download: WTF?! I Have Cancer?
• One-on-One Craft Mentoring 6-week Course
• Single Download of "Greatness" by Dynasty
• 15-minute Master Healing Angels Energy Work Session
• 20-minute Health Consultation + Video Course
 
 
Gifts will be available starting June 24th when the book launches - stay tuned for details!
How To Redeem Your Free Gift:
1. Purchase Modern Heroine Soul Stories as a digital book or paperback on Amazon.
2. Email your proof of purchase, order confirmation, or digital receipt to: ModernHeroineSoulStories@gmail.com
3. Redeem one gift of your choice through our online form and you'll hear from us within 48 hours with your gift!
Please note:

 
 
Book purchase must be verified first through emailed receipt, confirmation, or proof of purchase to ModernHeroineStories@gmail.com
Limit one free gift per a purchased book.
Limited quantity available.
Some shipping restrictions apply.
Please anticipate a 48-hour response time due to the volume of requests received at once.